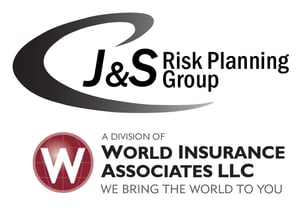 TINTON FALLS, NJ, December 10, 2019- World Insurance Associates LLC (WIA), a Top 100 Insurance Agency, announced today that it acquired J & S Risk Planning Group, LLC of Wantagh, NY on November 1, 2019. Terms of the transaction were not disclosed.
Founded in 2009, J & S Risk Planning Group, LLC provides insurance services for the New York and New Jersey Metropolitan areas. They offer a variety of insurance products for Commercial, Personal, Group Benefits, Health and Financial clients. J & S Risk Planning Group, LLC values its client relationships and believes in providing the highest level of service and expertise.
"J & S Risk Planning Group has the same vision and values we hold ourselves accountable for. We are more than pleased to integrate J & S Risk Planning Group, LLC to our expanding World team," said Rich Eknoian, CEO and Co-Founder of World Insurance Associates LLC.
"Both J & S Risk and WIA are independent agencies; therefore, we are not tied to any one insurance company. Joining World will enable us to continue to put our clients' needs first," said Jay Kantrowitz, Managing Member, CPCU, CLU, ChFC. "We look forward to delivering quality service and greater resources to our clients."
About World Insurance Associates LLC
World Insurance Associates LLC is headquartered in Tinton Falls, NJ, and is a nationally ranked, full-service insurance brokerage providing world-class asset and lifestyle protection with risk management, insurance, and benefit consulting services for individuals and businesses. Since its founding in 2012, WIA has completed 50 acquisitions and serves its customers from 34 offices in 10 states. WIA has been named one of The Most Successful Companies in America by Inc. 5000, is a Top 100 P/C Agency by Insurance Journal and Business Insurance, a five-time honoree by NJBIZ Fast 50, and a two-time Business Insurance Best Place to Work.
###
Media Contact:
Rich Eknoian, CEO
732-523-2106
richeknoian@worldins.net