Who in a Large Hospital Needs Malpractice Insurance?
Updated October 08, 2021
Most large medical facilities, namely hospitals, have to carry medical malpractice insurance of their own. They can often apply these policies to the risks faced both by the facility and those employed within. What can those in facility management do to ensure that all relevant employees receive malpractice coverage appropriately?
The good news is that malpractice insurance can apply to almost any medical care provider within the hospital setting. However, this doesn't mean that those employees can't choose to go their own ways with their own coverage. Regardless of how employees choose to insure themselves, it's important to make sure that they do always have it. Keep detailed records of coverage for all relevant employees.
Understanding Malpractice Insurance
Medical malpractice insurance is professional liability insurance. Professional liability policies apply to the losses of other people caused by business mistakes or professional services. Medical malpractice insurance is specific to the health care industry, and applies when doctors and others cause harm to other people in the course of their services.
Suppose that a physician misdiagnoses someone's illness after overlooking clear signs that point to another condition. In this case, they might cause the patient incalculable amounts of time and money lost treating a problem that was incorrect. As a result, the patient might sue the doctor for the mistake. Malpractice insurance exists to help the physician respond to the client's claims. It might help them reach a settlement for the damage they caused, and it can help the doctor cover their own legal costs in responding to the claims.
Who in Hospitals Need Malpractice Insurance?
Most hospitals choose to buy an organization-wide malpractice insurance policy. Multiple laws usually require not only individual physicians, but also employers to carry this coverage. It's important to have because it can help the organization protect itself in case of accidents caused by someone practicing under its umbrella.
Also, when the facility establishes its own coverage, then it does have the ability to extend protection to its employees. Therefore, both the facility and individuals can have coverage under the same policy, which makes risk management a lot easier in the long term. Some of those to add to your policy include:
Physicians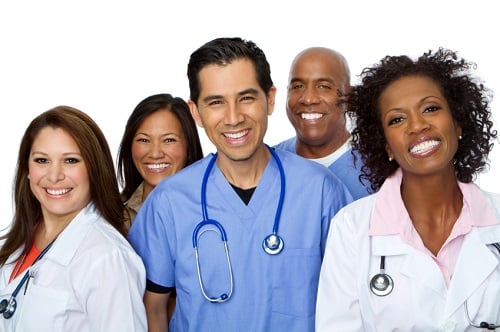 Doctors who practice exclusively within your facility will know that they will have this coverage any time they are doing work on the hospital's behalf. It's important to ensure that coverage provides enough protection for even those within the most-specific lines of care, like surgeons. Keep in mind, any type of physician might need coverage, including physicians assistants (PAs).
Medical Students
In some cases, medical students receive their malpractice insurance through their medical school. Many medical schools have hospitals attached, however. If a medical student does not receive their coverage through an institution, then the facility's policy might be able to help them out.
Chiropractors & Physical Therapists
Physical therapists and chiropractors are not licensed as MDs. However, they are highly-trained professionals who do provide medical care and physical treatments. Mistakes made in their lines of work might have severe impacts on the patients involved, which is why they need malpractice coverage.
However, even though a hospital's insurance policy might apply to multiple parties within, there are still those who might need a personal malpractice policy as opposed to relying on the facility's. Some physicians might do consulting work outside of normal business hours. Or, they might moonlight at other facilities. Therefore, when they do work outside the bounds of their employer's facility, the employer's policy might not cover them.
In these cases, it might be better for the individual to buy a personal malpractice insurance policy. It can follow them wherever they go, including in their regular facility. All the same, the hospital needs to require the physician to report that they will buy this coverage on their own, and present proof of coverage. This can help you make sure you aren't employing someone who has no insurance coverage at all.
Thank you for your submission
We'll respond to your request as soon as possible.