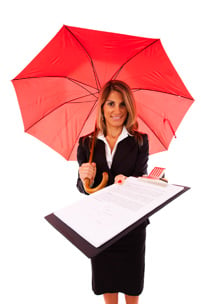 Many medical practices invest in company vehicles, and even company drivers. Conducting business via vehicle means that your medical practice faces road risks.
Like any other drivers and vehicles, medical practice operators need auto insurance. In most cases, they should carry commercial auto coverage. Commercial auto insurance is specifically geared towards vehicles used for business purposes.
Commercial auto coverage comes with much of the same coverage as a standard policy. However, coverage is usually much more comprehensive than that of standard insurance. It usually contains coverage for collision repairs, property losses, and injuries or damages an accident causes to other people.
However, even the best commercial auto insurance isn't always enough. Accident losses might exceed the policy's damage limits. If the medical practice can't afford the losses, it could easily lose money trying to make up for a car accident.
Medical practices should consider investing in commercial umbrella insurance for vehicles. There are a variety of scenarios that umbrella insurance can protect.
A practice might be at-fault in an accident that injures another driver. The affected parties might sue for damages. These claims could become expensive. The practice can use umbrella insurance to help meet any excessive costs related to the suit.

Umbrella insurance can expand the scenarios where drivers will qualify for insurance assistance. Commercial auto policies might contain liability exclusions. Umbrella insurance may help provide coverage for some of those lapses.

Certain locations or vehicle uses may cause a commercial liability policy to lapse. Umbrella insurance might expand the territory so that you never drive without coverage.
However, there are some important things to keep in mind. Umbrella insurance usually only covers liability risks. It might not cover damages sustained by your own vehicle, employees or property.
For example, umbrella coverage may not cover injuries to passengers in your vehicle. It might not cover damages to practice property in the vehicle, either. Check with you insurance agent to see how your commercial auto policy and umbrella policy combine to cover your property.
The right umbrella coverage will help your practice compensate for liability damages caused by its vehicles. Properly training and protecting employees can also help you make your medical practice safer.
We've got you covered. The Joseph A. Britton Agency, Inc. can help you purchase New York commercial umbrella insurance quote right now. Call us at 800.462.3401 for more information.