6 Types of Insurance for Your Delivery Business
When running a delivery business, whether it's a food delivery service or a courier service, there is an array of insurance policies available to protect you from financial loss due to various risks. Packages and parcels can get lost or damaged in transit, delivery drivers can be injured while out on the job, and lawsuits surrounding any of these scenarios could arise.
It's important to have an insurance plan tailored specifically for your business, one that covers you and your employees so you don't have to worry about a potential financial disaster due to unexpected circumstances.
This article will discuss the six main types of delivery insurance you should consider when protecting your business.
What is Delivery Insurance?
Delivery insurance is a type of insurance that covers your business and its delivery drivers in the event of an accident or other unexpected circumstance. It helps protect you and your business against financial losses due to accidents, lost or damaged packages/goods, liability claims, theft, and more.
Who Needs Delivery Insurance?
Anyone who owns or runs a business that requires frequent deliveries should consider purchasing delivery insurance. This includes delivery services, couriers, food delivery companies, and any other business that requires the transportation of goods from one place to another.
Sharing economy delivery businesses, such as Uber Eats and Etsy deliveries, should also carry delivery insurance to protect their drivers.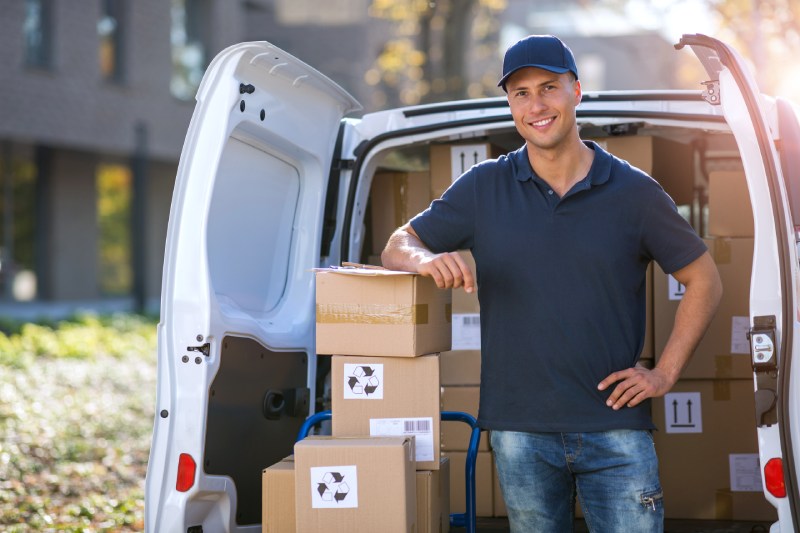 Why Use Insurance for Delivery Drivers?
The potential for missteps with frequent deliveries is high, and it can put a tremendous burden on you and your business if something goes wrong. Data from Amazon found that 1 in 5 delivery drivers suffer injuries each year. Insurance provides the right protection to make sure you are not paying out-of-pocket for unexpected costs related to accidents or other incidents.
Insurance for delivery drivers offers peace of mind that your business is protected in the event of any legal disputes or accidents. Delivery driver insurance can cover medical expenses resulting from an accident, legal costs if you are sued, and more.
Types of Delivery Insurance
Here are the types of insurance you might consider for delivery drivers.
1. Liability Insurance
General liability insurance provides coverage for third-party bodily injuries or property damage caused by the delivery driver. This type of insurance protects you from financial losses related to legal claims against your business, such as medical bills and repair costs.
2. Contingent Auto Liability Insurance
Contingent auto liability insurance offers additional protection if your delivery driver is involved in an accident. It provides coverage for third-party bodily injuries or property damage that are caused by your driver and not covered by other insurance policies.
3. Commercial Auto Insurance for Delivery Drivers
Commercial auto insurance for delivery drivers covers physical damage to the vehicle, medical expenses resulting from an accident, legal costs if you are sued, and any other costs associated with an accident. It is important to note that the cost of commercial auto insurance for delivery drivers can vary significantly depending on the driver's record, type of vehicle, and other factors.
4. Injuries and Property Damage During Operations Insurance
Delivery drivers typically operate in busy areas and are exposed to a wide range of risks, including slips and falls, vehicular accidents, and property damage.
Many delivery companies offer an additional layer of insurance protection against these potential risks by providing coverage for injuries or property damage that occur during the course of operations. This type of insurance is usually more affordable than traditional commercial auto insurance and can provide invaluable protection for delivery drivers.
5. Workers Compensation Insurance
Workers' compensation is a type of insurance that provides financial protection to workers who are injured or become ill while on the job. Delivery drivers often work long hours in strenuous conditions, making them vulnerable to workplace injuries. Workers' compensation coverage can help delivery drivers recoup lost wages and medical expenses if they are hurt or become ill while working.
6. Legal Rights and Liability Insurance
Legal rights and liability insurance provide protection from employee legal rights violations and other claims that may arise in the workplace. This type of coverage can help delivery drivers protect themselves from potential lawsuits or other claims related to their work, such as allegations of discrimination or harassment.
Other Types of Delivery Insurance to Consider
In addition to the types of insurance described above, delivery drivers should also consider specialized coverage for their specific type of business. For example, commercial auto insurance can help protect delivery drivers from losses related to physical damage to their trucks, theft or damage of cargo, or injuries and property damage when using their trucks for personal use.
Depending on the type of delivery service and goods being transported, additional insurance coverage may be necessary to protect against other types of risk.
Delivery Driver Insurance Cost
The cost of delivery driver insurance will depend upon the type and amount of coverage purchased. Generally speaking, commercial auto insurance for delivery drivers tends to be more expensive than personal auto insurance due to higher limits and added coverage options.
Also, certain types of cargo may require additional or specialized insurance coverage that will also increase costs. However, the exact cost for delivery driver insurance will vary based on the specific risks involved, so it is important to speak with an experienced insurance professional to determine the best policy for your particular needs.
Find Your Policy Today
World Insurance offers commercial auto insurance for food delivery, as well as other types of delivery services. We offer competitive rates and a range of coverages to ensure you get the protection you need without paying for what you don't.
When it comes to delivery driver insurance costs, our experienced team can help you find the best coverage at the right price. Learn more about our delivery insurance today.
GET STARTED WITH A FREE CONSULTATION
Creating a custom benefits package is critical for companies of all sizes.