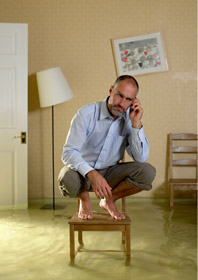 Of all the things that could possibly go wrong at your medical practice, you may not have considered the implications of flooding. Rising floodwaters inside your practice could damage the building itself, along with important records and specialty equipment.
You may not be able to predict a flood if a pipe bursts overnight, but weather-related floods can often be predicted in advance. This gives you the chance to take action! Some simple steps can help reduce the amount of damage your practice may sustain during a flooding event. Follow these tips to prepare for flooding.
Remove as many soft items from the ground level as possible. This may include records stored in bottom drawers of filing cabinets, magazines, plants, upholstered furniture and other items that could be ruined by a few inches of water.

With enough time, you may be able to move some specialty equipment and computers into a storage facility on higher ground. If not, move whatever you can onto shelves or in high cabinets.

Ensure that all data—especially patient records—is safely backed up. This may involve an off-site server and/or cloud drive storage.

If a flood occurs, it's crucial that you start the drying process as soon as it's safe to do so. Bring in fans and dehumidifiers, and hire professionals to assist with the cleanup process.

It's also crucial that you document the damages and save receipts that relate to the cleanup process for insurance purposes.
It's likely that your practice is already protected by commercial property insurance; but this coverage often excludes flooding. Get optimal protection by adding flood coverage onto your policy today.
Are you covered? Call Joseph A. Britton Agency at (800) 462-3401 for more information on New Jersey commercial flood insurance.