The Impact of the Sharing Economy on Hotel Insurance
The sharing economy has drastically changed the way we interact, shop, and travel. The ability for individuals to easily facilitate transactions online has been beneficial for consumers but has disrupted a number of traditional business sectors. Perhaps one of the most obvious is the hotel industry.
With the popularity of property sharing, hotels have needed to reevaluate their business model and even the need for hotel insurance. Read on to learn more about how the sharing economy has blurred the lines between residential and commercial properties and what it means for hotel insurance.
The Rise of the Sharing Economy
It's safe to say that in the last decade, the sharing economy has boomed. But what exactly is the sharing economy? The experts at the Corporate Finance Institute define the sharing economy as "an economic model in which goods and resources are shared by individuals and groups in a collaborative way such that physical assets become services."
Just consider rideshare businesses like Uber and Lyft or property rentals like Airbnb and Vrbo. These business models have allowed everyday people to rent out their own assets and/or services, like their car or house, to earn some additional income.
Pros and Cons of the Sharing Economy
In the grand scheme of things, the sharing economy is still relatively new. That means many of the advantages and disadvantages of this unique type of economic model are still being uncovered.
The most obvious advantage of the sharing economy is that it makes goods more accessible to more people. As Indeed explains, the sharing economy emphasizes access over ownership. In other words, just because someone doesn't own a car or a vacation home doesn't mean they can't have access to one at an affordable price through peer-to-peer sharing. Owners of these assets also benefit by earning additional income while maximizing their use.
However, the sharing economy isn't always the win-win it appears to be. Indeed, it emphasizes that it is often an unstable income, and regulatory challenges can affect consumers on both sides of the transaction.
Without third-party regulations and insurance, consumers can fall victim to scams. At the same time, property owners may be more prone to theft and vandalism losses if they do not have the right type of insurance in place.
In short, the sharing economy is difficult to regulate, which can lead to many problems.
Sharing Economy and Property Sharing
The sharing economy has perhaps had the greatest impact on the short-term rental industry. When major players in the space, such as Airbnb, entered the market, there was a clear decline in hotel bookings. Even today, HotelTechReport estimates that Airbnb may be capturing 10-12% of travel demand in major cities like New York City, Paris, and London.
Hotel owners have had to reevaluate their business models to adapt, and insurance companies have also had to navigate the new demand for specialized property insurance.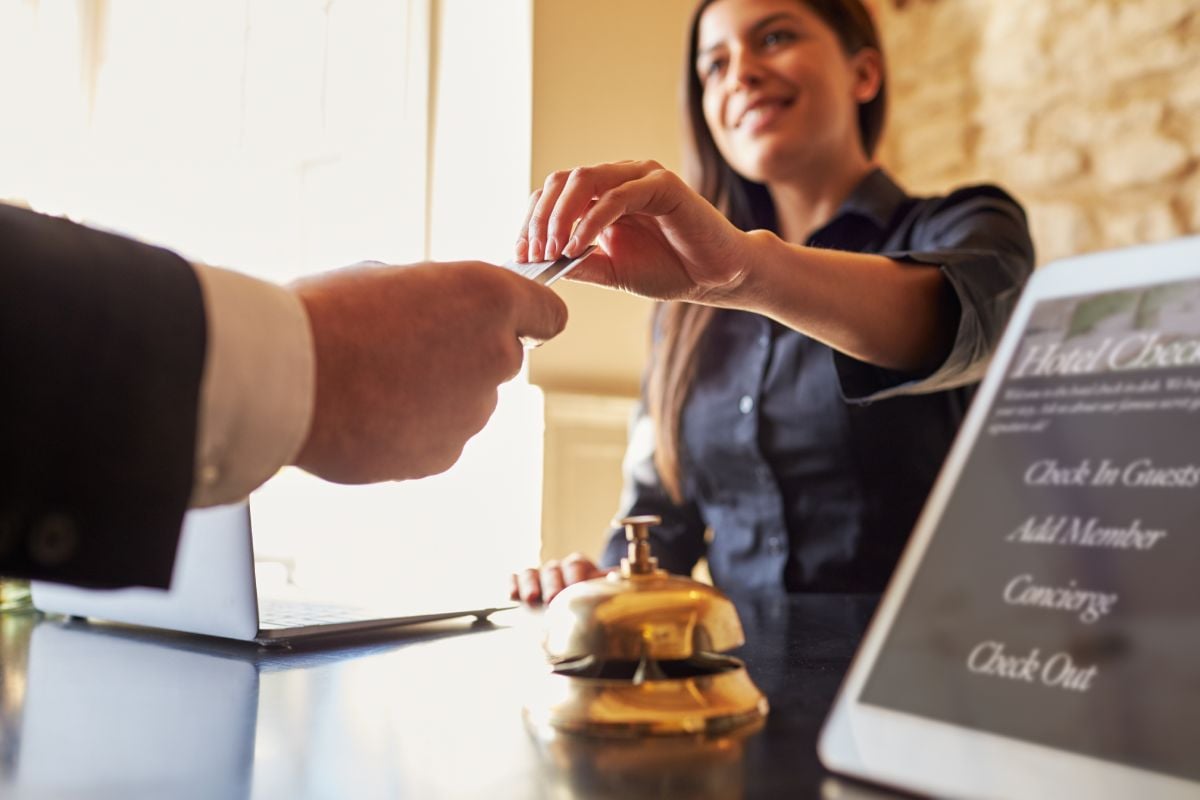 The Impact of the Sharing Economy on Hotel Insurance
As we said, the sharing economy has truly blurred the line between properties that are used for both personal and commercial purposes. And, naturally, this has created challenges for insurers who need to create specialized insurance products.
To put it simply, insurance programs for hotels differ from those for properties used for short-term rentals. Though there is overlap in the need for certain insurance coverages, the risks for hosts are often more difficult to define and require a unique mix of property coverages.
Importance of Insurance for Hotels
Essentially, hotel insurance helps protect hotel owners from a variety of risks, spanning from bodily injury to visitors on your premises to burglary and vandalism. Hotels also face risks if they serve food or have a swimming pool. Because they're exposed to so many perils, it's important for hotels to have robust hotel insurance policies.
Hotel insurance is specifically designed to meet the needs of hotels and motels with a large number of rooms. It's normally written as a package policy, which means one policy contains multiple individual coverages. The individual coverages contained within a policy are often customized for a particular hotel's situation.
The hotel insurance cost can vary depending on the unique needs of the business.
Do Short-Term Rentals Require Hotel Insurance?
So, do short-term rentals in the sharing economy require the same hotel insurance? In short, no.
These rentals blur the line between personal and commercial properties. Hotel insurance programs are tailored to larger properties with many rooms and may not cover the distinct needs of these short-term rentals. Rather, these business owners would need individual short-term rental insurance or host insurance to cover the risks associated with renting their property out to guests.
Luckily, the industry has come a long way in understanding the needs of short-term rentals in the sharing economy. You can often find specialized insurance coverage for this specific situation.
It's essentially the same rule that applies to bed and breakfasts and small inns. These properties have fewer rooms and amenities, so they don't need hotel insurance coverage specifically. Because their insurance needs are slightly different, they often choose from different insurance options.
Hotel Insurance Coverage 101
Hotel insurance is extremely robust and can often be separated into liability coverages and property coverages. The former protects a business from claims and lawsuits surrounding harm and includes:
General liability coverage
Premise pollution liability coverage
Cyber liability coverage
Employment practices liability coverage
Commercial auto liability coverage
Food-borne illness liability coverage
Liquor liability coverage
Property coverage, on the other hand, helps to protect the hotel's property which includes the building itself, equipment, and inventory. Some examples of property coverage for hotels include:
General property coverage
Crime coverage
Food spoilage coverage
Utility interruption coverage
Earthquake and flood coverage
Wind coverage
Hotel insurance programs also differ depending on the property. Venues that host weddings or conferences may want event cancellation coverage, while others may prioritize worker's compensation coverage and business interruption insurance. These are often coverages that short-term rentals don't need to worry about.
World Insurance Associates offers a complete Hotel/Motel insurance program available nationwide, and we always look to confirm that we are meeting all franchise requirements. Learn more about our hotel insurance offerings today.
GET STARTED WITH A FREE CONSULTATION
Creating a custom benefits package is critical for companies of all sizes.