Guide to Opening a New Restaurant
Updated October 21, 2021
The process of opening a new restaurant is an exciting time. It can be stressful too, but having a plan helps minimize headaches. At World Insurance Associates, we work in areas such as hospitality insurance for restaurants, bars and nightclubs in New York and New Jersey. One thing we have noticed: many restaurant guides skip information such as insurance coverage. For example, bar liquor liability insurance in New Jersey safeguards against occasions when someone causes damage or injury while drunk. This guide is designed to include important insurance information, so here, in eight steps, is how to open a new restaurant in New York or New Jersey.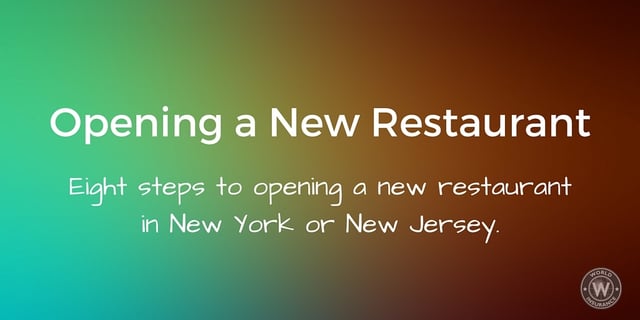 #1 - Nail the Concept and Name
Decide what kind of restaurant you want to open. Options range from a bakery to a simple diner to a fine restaurant with many bells and whistles. You may also prefer to specialize in an area such as opening a pub or running a sushi eatery. As for the name, your options include wordplay, a personal touch or a play on a common theme.
#2 - Decide on Location
As you no doubt know, location can make or break a restaurant. Keep in mind considerations such as potential competition, foot traffic, transportation options and the history of restaurants on the site.
#3 - Develop a Business Plan
A business plan is where everything begins to come together. Such a plan touches on areas such as the restaurant concept, your competition, budgeting, financial projections, menu, how items are priced, the market segment you want to reach and how you will market to that segment.
#4 - Arrange Financing
Err on the side of too much money than too little when you work to find financing. Aim to have nine months to one year of working capital on hand, and start your search for financing at such places as your own assets (bank accounts and real estate, for example). Bank or credit union loans are other options, as is crowdfunding. Arranging loans from friends and family is another path but one that has the potential to fracture relationships. Approach this one with caution.
#5 - Take Care of Legalities and Insurance
There are a lot of details such as zoning requirements, business licenses and safety laws to keep in mind. You may also need health permits and liquor licenses, among others. And then there is insurance. With us, you can get insurance such as restaurant general liability coverage in New Jersey. It covers patron injuries and illnesses, and then there is bar liquor liability insurance as discussed in the introduction. Many restaurants should also opt for assault and battery coverage in New Jersey.
#6 - Move Everything In
You most likely have furniture such as tables and commercial kitchen gear to buy or lease, and move in. Design where everything will go and adjust as necessary.
#7 - Hire Staffers and Market
It is nearing the time when your doors open! Your restaurant may need staffers such as waiters and waitresses, so now is the time to hire them. Use programs such as ongoing training and employee incentives to attract the best and to reduce staff turnover. It is also time to begin marketing, if you have not begun already. Marketing avenues include social media, coupons, a traditional and mobile website, and traditional advertising such as signs.
#8 - Hold Your Openings
Open in two stages, with a soft and grand opening. The soft opening is a quieter affair designed to identify bugs and potential problems. The grand opening is, of course, the big "we're here!" celebration.
A lot certainly goes into opening a new restaurant. Much also goes into operating the restaurant, which is why it is important to ensure you take care of legalities and insurance early in the process.
Thank you for your submission
We'll respond to your request as soon as possible.