16 Pool Safety Tips Every Homeowner Should Know
Updated January 24, 2022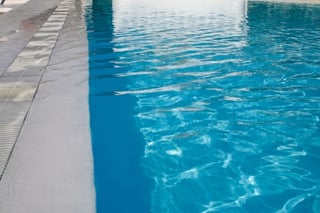 Your home is one of your most important possessions... Do you keep it properly maintained to reduce the risk of a loss?
Now that warm weather is here, it's more important than ever to make sure your backyard (especially your pool) is ready for all your summer guests, and --more importantly-- for your children who are finished with school and want to go outside to play. A big part of making sure your backyard and pool are ready for summer is making sure they are SAFE.
Every year, 43,000 people are injured in and around swimming pools. More than 600 people drown in home or public pools. While it is difficult to control the environment of a public pool, you can make sure you backyard pool is as safe as can be.
There is nothing worse than watching in panic as your child or your child's playmate accidentally trips on a toy and falls in the deep end of the pool. You can help keep this nightmare and others from becoming a reality by following these pool safety tips:
Make sure everyone knows how to swim. When you know that Susie hasn't learned how to swim yet, you can help make sure she stays away from the pool area & wears a life vest or other safety device.
New swimmers should be accompanied by an individual who is familiar with life-saving skills.
Never allow a child to swim alone.
Keep lifesaving equipment in the pool area (throwing rope with rings, reaching pole, rescue hook, etc.).
Don't allow bottles, toys, and other potential hazards near the pool area.
Keep electronics away from the pool and/or wet surfaces.
Have secure fencing around the pool with a self-locking entrance. Make sure a child cannot climb or squeeze through the fence.
Store pool chemicals in a safe area away from the pool area and out of reach of children.
Maintain a clean pool. A dirty pool can cause sickness and infection (not to mention the fact that no one will want to swim in it!).
Keep children away from pool filters.
Inspect your pool periodically for signs of wear and tear. Look for rips in the liner and other damage from inside the pool (damage may not be noticeable at the top of the liner and the water will distort your view). If you have an above ground pool, check metal supports for rust and deterioration.
Never allow anyone who has been drinking alcohol to use the pool. "Among adolescents and adults, alcohol use is involved in up to 70% of deaths associated with water recreation" (from a CDC Drowning Factsheet).
Stay out of the pool during rain and lightning storms.
Don't allow children to swim when they are tired or have just finished eating. Having a pool party this summer for your child? Plan a fun activity for them to do after the cake so they aren't tempted to hop right back in the pool.
Use door alarms, locks, and safety covers when the pool is not in use.
Never leave toys or floats in the pool when it is not being used. These cause a deadly temptation for toddlers who will try to reach the object in the pool.)
Are You Considering a Pool?
Please keep in mind that adding a pool to your backyard will increase your liability risk. This is primarily due to the fact that pools are considered an "attractive nuisance," which means they can lure children onto the property (or into the pool) and that they have the potential to cause serious injury.
Once you add a swimming pool to your property (or if you already have one), you may want to consider purchasing additional liability insurance to make sure you are covered in the event of a loss (most policies include a minimum of $100,000 for liability). You can also purchase an umbrella liability policy, which is inexpensive and can provide $1 million of additional liability for between $200 and $300 a year.
A pool is also an expense in itself, and it will cost a lot of money to replace if it is destroyed by a storm or other disaster. Check with your insurance agent to make sure you have enough coverage to replace your pool and other backyard furniture (chairs, tables, etc.).
You should also consider NOT adding a diving board or slide to your pool, as many insurance companies will not write the policy and could possibly non-renew your policy if they find out you have one.
Safe Alternatives to a Backyard Pool
If you have decided that you don't want to take on the additional expense and responsibility of a swimming pool, there are some safe alternatives that will help you and your kids keep cool and have fun this summer:
Spray water bottles. You can add ice cubes to the bottles so the water stays cold longer and organize a game around spraying each other.
Water balloons. Children --and even adults-- can have fun with a water balloon fight. Just be sure to set some ground rules first (no balloons to the face, etc.).
Sprinkler or garden hose. A classic way to keep cool in the summer.
Water guns.
Additional Resources
GET STARTED WITH A FREE CONSULTATION
Creating a custom benefits package is critical for companies of all sizes.