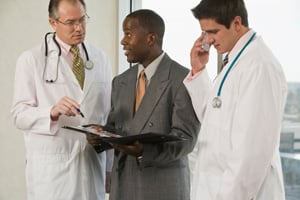 Ophthalmologists and eye doctors often are very patient-focused. You view your practice as a way of providing care to those in need. Yet, there is little doubt that mistakes can happen or misunderstandings will occur. When this happens, you'll appreciate having business insurance that may safeguard all of your risks and help minimize your financial losses. Professional liability insurance can be the backbone of your business insurance coverage for liability-related matters. What can it help you to protect against?
What Does Professional Liability Insurance Offer?
For those who are ophthalmologists or other eye doctors, having professional liability insurance may be essential. The features of these policies can differ from one provider to the next, but they often include:
High levels of liability coverage

Legal defense costs coverage up to your covered limit

Good Samaritan coverage

Personal injury liability coverage

Administrative hearing and Medicare or Medicaid billing defense coverage

Sexual misconduct coverage

HIPAA Proceeding expense coverage

Loss of earnings per day when in matters related to defense

Medical payments and first aid coverage
Take a closer look at your policy and you'll find it can provide you with a wide range of coverage. The goal of these policies is twofold. First, it is there to help protect your reputation and name through ample legal defense when it becomes necessary. Should someone make a claim against your service, such as a mistake made during their eye exam, this policy will help to defend you in a court of law. Second, it works to help pay out any claims that either are entered through settlements or those required under law.
There can be discounts available for professional liability insurance. For example, moonlighting policies, new to practice credits and group size credits may be available. Talk to your business insurance provider to find out what level of protection is available to you as well as what steps you can take to safeguard your business in such instances.
Professional liability insurance for eye doctors should not be something to overlook. Put the time into studying what these may policies offer to potentially have the outstanding financial protection you need them to. As an ophthalmologist, your goal is to meet your clients' needs. With the help of this type of business insurance you can do that more readily.
Is your practice covered? Call Joseph A. Britton Agency at (800) 462-3401 for more information on New Jersey liability insurance.