Medical Malpractice Insurance for Large Practices
Updated October 21, 2021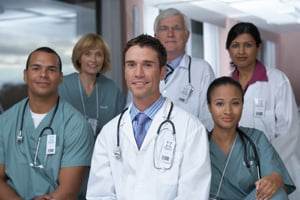 Medical malpractice insurance is important for any practice, but especially large practices. Large medical practices typically employ a big staff which increases the risk for mistakes. Even talented physicians and surgeons can make mistakes and it's important to protect the practice in case of a malpractice claim.
What is Medical Malpractice?
Medical malpractice occurs when a patient is injured due to negligence from one or more medical professionals. Examples of malpractice that a patient may sue for include:
Misdiagnosing or failing to diagnose
Performing the wrong surgery
Performing unnecessary surgery
Discharging the patient prematurely
Misreading laboratory results
Surgical errors
Over or under prescribing medication
Failing to identify symptoms
Performing poor or no follow-up care
Medical malpractice insurance is a liability insurance that protects a practice against claims due to medical malpractice. This works to ensure the practice doesn't go under because of an expensive claim by providing compensation for legal fees.
Do Large Medical Practices Have to Provide Medical Malpractice Insurance?
Not every state requires hospitals or other large practices to carry medical malpractice insurance. New York, for example, doesn't require this insurance. But in New York especially, it's crucial to protect practices from malpractice claims.
Large practices may offer medical malpractice insurance to their employees. Some medical professionals carry personal medical malpractice insurance, such as private doctors. It's important to remember that different practices require different types and limits to their liability insurance. Gynecology comes with different risks than nursing, so be sure your practice's coverage is tailored to meet every need.
Price of Medical Malpractice Insurance by Specialty
Prices for medical malpractice insurance varies by state and by practice. Prices also fluctuate per year, so it's important to speak with an insurance agent about the cost of insuring your practice. The averages in New York are approximately:
Primary care physicians: $17,000-$40,000 a year (or 3.2% of their revenue)
Surgeons: $30,000-$50,000 a year
Anesthesiologists: $40,000 a year
OB/GYN: $150,000 a year
Nurses: $100 a year
These numbers don't necessarily represent how much each medical professional pays a year. While large practices can and should offer medical malpractice insurance, medical professionals are often encouraged to carry their own policy. Depending on location, specialty and amount of insurance, rates can be cheaper.
How Much Medical Malpractice Insurance Do Large Practices Need?
It's important to consider how many employees are being insured and the specialties of each employee. The average malpractice claim paid in 2018 was around $348,065 and malpractice claims cost U.S. medical practices millions per year. Some insurance policies offer up to $3 million in medical malpractice insurance, though it typically caps per year at $1 million.
What are the Different Types of Medical Malpractice Insurance?
There are three categories of medical malpractice insurance policies.
Claims-Made Coverage: This is one of the most common medical malpractice insurance policies. Its premiums begin relatively low and go up over the years. It's a flexible policy that the insured can change or expand as their practice grows. Claims-made coverage steps in when a claim is filed and reported during the policy period.
Occurrence Coverage: Occurrence coverage steps in no matter when the claim was filed.
Claims-Paid Coverage: Often used by Trusts, claims-paid coverage premiums are based on claims settled the previous year and anticipated for the next year. Changing or leaving from a claims-paid policy can be difficult and expensive.
Medical practices provide a crucial service and it's important that one claim doesn't take away the practice's ability to run. Speak with an insurance agent about your state's requirements and rates to insure your practice with medical malpractice insurance.
Thank you for your submission
We'll respond to your request as soon as possible.