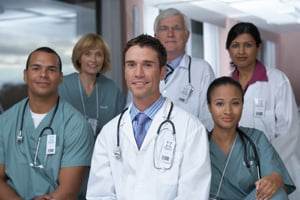 You've just been served a summons & medical malpractice complaint. You call your medical malpractice insurance company who directs you to forward a copy of the summons & complaint to the claim department. You breathe a little easier, and return to work. The next day, you receive a call from the claim representative of your insurance company. She explains that you are insured individually, but that there is no coverage for your corporation. What went wrong?
Most medical malpractice insurance policies do not automatically include coverage for your corporation, limited liability company, partnership or other forms of entities. Protection is similarly not typically automatic for doing business as (dba) names and also known as (aka) names either.
Depending on your insurance company and the state where you practice, you may have several options for insuring your entity:
Separate protection limits – This option provides you with the best protection. If you, your entity and any employees are named as defendants in the same claim, your individual protection will not be diluted by claims against your entity and/or any employees who may be insured by your policy as an additional insured. There is usually a charge for this protection, but in some states the protection can be added at no additional charge if all physicians affiliated with the practice are insured with the same insurance company.
Shared protection limits – In states where this option is allowed, your entity shares your individual limits generally at no additional charge. This option protects you, your entity and any employees insured as additional insureds. But, your individual protection can be reduced in the event that awards involving the same claim are made against you, your entity, and any additional insured employees.
Defense only protection – In rare instances, insurance companies will allow your entity to be insured for legal defense only. For a small charge, your entity would be provided a legal defense. With this type of insurance, situations could arise that put both yours and your entity's assets at risk.
What to do? Make sure that you notify your insurance company or agent of all entities you own as well as any doing business as (dba) and also known as (aka) names that you use. Even if you believe that these entities or names have nothing to do with your practice, inform your company or agent and let them advise you. If you have questions or would like our help, contact a Britton Agent at 800-462-3401 to discuss your options.