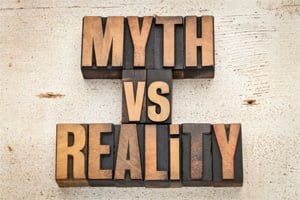 There are enough challenges associated with practicing medicine and starting, managing and growing a medical practice. Why get bogged down with the myths about medical malpractice coverage? Here's the truth about the most common misunderstandings surrounding professional liability coverage for doctors:
Myth: Tail coverage is automatically free in claims-made policies after five years.
Fact: Tail coverage protects you for covered incidents that occurred while the claims-made policy was in effect but are reported after the policy's cancellation. Claims-made policies often do include a free death, disability and retirement provision (DDR). This provides free tail coverage ONLY if you die or become totally disabled while the policy is in effect, or if you completely retire from the practice of medicine. Refer to your policy for specific details.
Myth: You can't be sued for more than your policy limit.
Fact: If a jury awards more than your medical malpractice insurance policy limit, your personal assets could be at risk. While the award may be settled or reduced to your policy limits, that takes time. During that time, judgments can be placed against your assets, prohibiting your access to them or obstructing your ability to sell those assets.
Myth: You can't be sued more than two years after an incident occurs.
Fact: Statutes of limitation are different in each state. Call to speak with a Britton Agent to find out which statutes of limitation apply in your situation.
Do you have questions about medical malpractice coverage? Call a Britton Agent to discuss your medical malpractice coverage options in detail. Call 800.462.3401.