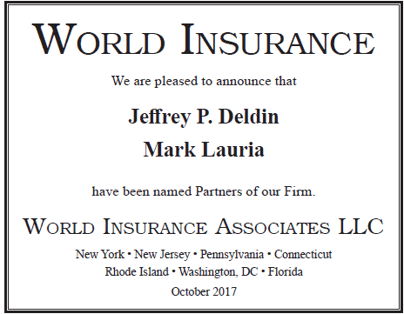 TINTON FALLS, NJ, December 12, 2017– Mark Lauria, President of Mark Lauria Associates, and Jeffrey Deldin, President of Bruen Deldin DiDio Associates, Inc., have joined World Insurance Associates LLC as Partners of the firm. As such, they bring another level of knowledge and expertise to the fast-growing independent insurance agency.
Mark Lauria began his insurance career with Liberty Mutual in 1967 as a Sales Representative. He left to head up sales in 1969 for captive agent Allstate. During this time, he felt very strongly that there was a better way to service a customer. In 1979 he and his wife Laura Lauria co-founded Mark Lauria Associates Inc. in Staten Island, NY. In 2004, a second agency was formed in Red Bank, NJ. On April 1, 2017, Mark Lauria Associates partnered with World Insurance Associates LLC. The agency continues to offer the best protection options to their customers. Mark holds an Associate in Risk Management from The Insurance Institute of America.
Jeffrey Deldin, a graduate of the University of Connecticut School of Business, worked as a Senior Underwriter with Continental Insurance Company from 1990-1995. Following this position, he spent 3 years with Dunlap Corporation as a Surety Bond Agent and Broker in Connecticut. In May of 1998, Jeff began his career with Bruen Deldin DiDio Associates, Inc. where he has amassed a great deal of insurance knowledge and experience in the construction industry. He sits on various agency council boards and has served 12 years with the Board of Directors of the Associated Builders and Contractors – CT Chapter. On August 23, 2017, Bruen Deldin DiDio Associates, Inc. joined World Insurance Associates LLC, adding the states of Connecticut and Rhode Island to the agency's growing list of office locations.
Rich Eknoian, co-founder of World Insurance Associates LLC, stated, "We are thrilled to welcome Mark and Jeff as Partners to our organization. The addition of their respective agencies has made World Insurance Associates a better company with even more resources and capabilities to offer to our customers."
World Insurance Associates LLC is an independent insurance agency headquartered in Tinton Falls, NJ. It offers extensive, cost-effective personal and business insurance solutions in 46 states. The company specializes in group benefits and insurance for transportation companies, the hospitality industry, coastal properties, and high net worth individuals in addition to general commercial clients in diverse industries. World Insurance Associates began business in 2012 and now serves more than 23,000 customers from 15 offices in NJ, PA, NY, CT, RI and FL. It has completed 24 acquisitions, has current run rate revenue over $23 million, and places more than $170 million per year in annual premiums. The company is ranked #20 on the list of New Jersey's 2017 50 Fastest Growing Companies.
# # #
If you would like more information about this topic, please contact Rich Eknoian at 732-523-2106 or email richeknoian@worldins.net.