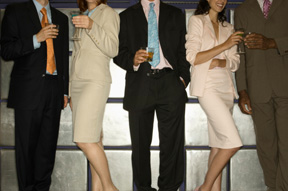 It's that wonderful time of year again. December brings holidays for many faiths plus the end of another year. Many companies want to reward their employees with bonuses and a holiday party. Holiday parties create a great opportunity for employees and employers to bond outside of the traditional work environment. But, the holiday party also creates risks for the employer if alcohol is involved.
If you are planning a holiday party, consider having your party at a restaurant or catering hall with a liquor license. These types of facilities hire professional bartenders who are trained to deal with patrons that drink alcoholic beverages. More importantly, these facilities should be insured with liquor liability insurance. Although it is unlikely that you will be named in a liquor liability claim by an employee, the possibility exists. If an employee sues the restaurant or catering hall, the restaurant or catering hall could name you as a third party defendant. To protect yourself and avoid the possibility of the restaurant or catering hall naming you as a third party defendant, you should ask the restaurant or catering hall to name you on their policy as an additional insured. You should obtain a certificate of insurance indicating that the restaurant or catering hall is insured for commercial general liability insurance and liquor liability insurance. The certificate of insurance should list you and your company, corporation or partnership as the certificate holder and clearly indicate that you are an additional insured for the day of the party, or two days if the party could run past midnight.
You should also consider private event insurance with host liquor liability. Depending on the limits purchased, policies can be obtained for as little as $200 and the protection will be broader than the coverage typically afforded an additional insured. Contact a Britton Agent at 800-462-3401 to discuss your liquor liability insurance options.