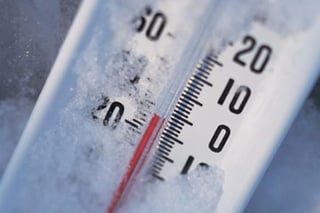 Many of us started the New Year with a new weather-related term called an "Arctic Vortex!"
In any language you choose, the weather became unbearably COLD!
Along with the sub-freezing temperatures and the gale force winds came the inevitable freezing of water pipes. So now with the moderate temperatures we've had over the last few days, some of these water pipes have begun thawing and the resulting water has caused thousands of dollars in damage. While most all of this resulting damage is covered by your home insurance, the inconvenience is unbelievable.
The long-range forecasts are still calling for below-average temperatures for the East Coast towards the end of January into February. We would like to suggest some recommendations to prevent extensive damage moving forward:
If the temperatures are dropping below freezing, open the doors below the sinks in your home, especially if the water lines to your kitchen and/or bathroom are on an outside wall. This alone will bring the room temperature higher and reduce the chance of a pipe burst.
Leave the water on a small trickle until outside temperatures increase.
Check the water lines in an unheated crawl space or basement. If you have access to them, inexpensive pipe wrap is available at your local hardware store or plumbing supply shop.
Some water lines may be located in your attic. If that's the case, try purchasing some UL–listed "heating cable" that provides heat to these exposed pipes.
Is this a seasonal home that you don't get to very often? Why not drain your water supply lines until Spring rolls around. While you're at it, drain the old well pump that you still have in the crawl space.
Above all, keep the inside home temperature above 55°F if you are not at home!