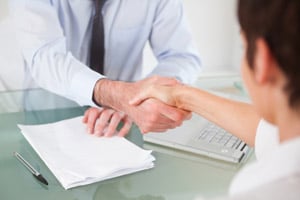 There are many liabilities that medical practice employees face while on the job. Most people automatically think of slip and fall risks. But, physical injury risks aren't the only risks employees face.
Various employment practices pose other liabilities to both employees and the practice. If an employee experiences unethical employment situations, he or she may sue the medical practice.
If an employee makes an employment claim against your office, you have to defend the claim. A special type of liability insurance can help you in these situations. Employment Practices Liability Insurance (EPLI) is different from standard business liability coverage.
When does EPLI Kick In?
The law requires many employers to maintain safe, ethical hiring standards and workplaces. If an employee feels unfairly treated by the practice, he or she may file suit against the business.
Some allegations that may lead to a lawsuit against your medical practice include:
Claims of emotional distress or sexual harassment

Hiring discrimination based on age, gender or other factors

Withholding of career advancement opportunities

Breach of contract

Mishandling of salary of benefits
If someone sues your practice for such allegations, you may be able to use your EPLI coverage to pay legal costs. You can often use these policies whether you win or lose the case.
Create a Safe Environment
The best way to reduce employment risks is to create a safe, ethical practice. If you create a safe space for employees, you will be supporting a good environment for patients.
Follow all local laws about employment practices. Employees do have rights, and it is your responsibility as an employer to honor those rights. Make sure that employees know about these rights. Place your employment rights in easily accessible areas, like your employee handbook or a break room.
Furthermore, maintain a strong human resources arm. An ethical, qualified HR professional can help manage hiring affairs. He or she can also address the needs of current employees. Employees should have a systems to report any allegations of misconduct or harassment.
Furthermore, proper HR practices will help reduce claims of hiring discrimination. Strong hiring practices will bring in qualified employees while weeding out employees who may pose an unethical threat to the practice, employees or patients. You should always thoroughly inspect the backgrounds of any prospective employee.
Joseph A. Britton Agency can help you get the correct EPLI insurance for your practice. Go online now for a fast quote. Give us a call at (908) 654-6464 for more information..