Host of the popular TV show, "Bar Rescue," Jon Taffer has a good suggestion for managing labor costs in his latest book, Raise the Bar.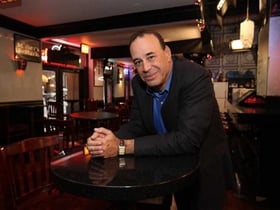 Jon Taffer of "Bar Rescue"
and author of Raise the Bar
Taffer says, "Labor typically eats up between 25% and 32% of all revenue."
He also said controlling this single biggest cost is simple: know what your daily sales will be and schedule that day's labor to be 30% of that number.
Having a daily labor cost target makes achieving it more doable. It's easy to cost out the schedule and see what the labor cost will be versus the goal for that day.
What you can do is look at your last 12 months' average sales by the day of the week and calculate Taffer's 30% labor target based on those numbers.
The results can be significant.
If your restaurant has a 5% net profit margin on sales and your labor costs are 35% of sales, using Taffer's method to reduce your labor cost to 30% of sales will double your net profit.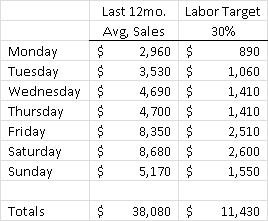 Sample Sales with Taffer's 30% Labor Target
When you put together your work schedule for next week, cost out the hours so Monday's estimated labor costs don't exceed $890 and so forth.
Don't forget to include estimated payroll taxes, workers compensation insurance, and benefits (if any).
What method for controlling labor costs works for your restaurant or bar?
Leave a comment below or drop us a note and we'll share it with our clients (with your permission).
Disclaimer: At World Insurance Associates, we not only insure over 2,000 restaurant risks, we are also restaurant owner/operators and are currently partners in restaurants in NY, NJ, and CA. In an effort to provide our restaurant and bar owners and managers with the best service, from time to time we will highlight a service or product that has been of use in our restaurant operations. We do not accept any fees or other remuneration for these recommendations. Our only goal is to help you in your daily business responsibilities.