JR Tallman Insurance is now a World company
JR Tallman & Co. Inc. started out as the Sidney W. Williams Company in 1839, providing fire insurance for factories, stores, homes and other property.
"Today we continue the tradition of serving our customers with integrity and personalized attention," says Cheryl "Bunny" Johnson, Unit Leader, JR Tallman & Co. Inc. "Our experienced expert brokers streamline the insurance-purchasing process for our clients. I look forward to offering our clients even more products and services as part of World."
Read more about this agency acquisition in our press release.
Providing Personal and Commercial Insurance Services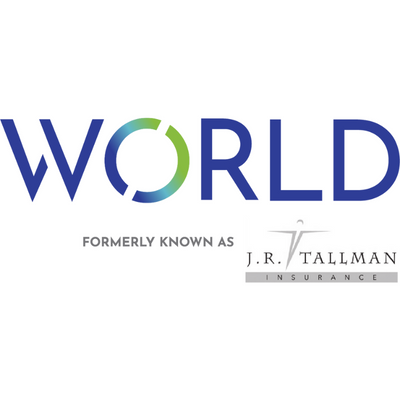 Office Address
12 Court Street, Taunton, MA 02780
Office Hours
Monday - Friday, 8:00 AM - 5:00 PM
Saturday - Sunday, Closed
Exceptional Support
Testimonial
After a decade with an agency that could not keep up with our needs, I have been absolutely thrilled with the customer service I received from JR Tallman. We work on dozens of projects at a time and this requires lots of additional paperwork from them. Our various request are always met quickly, they have taken the time to explain our policies so I finally understand them and as a bonus they are a bunch of the friendliest people I know!
- Robin Kennedy, Thomas J. Kennedy Plumbing, Heating & HVAC
Testimonial
I have depended on Tallman Insurance for both my Personal and Business needs for almost 20 years. That in itself says a lot. The entire Tallman team is professional at every level -- amazingly responsive, very knowledgeable, and good old-fashioned, wall-to-wall service, that for the most part, has disappeared everywhere else.
- Mark Litos, Litos Strategic Communication