M. Adams & Associates is now a division of World
M. Adams & Associates, Inc. was established in 1991. Their mission is to find quality, competitive insurance products tailored to their customers' specific needs. They conduct business with their core values of honesty, integrity, respect, and accountability while providing prompt customer service.

"We work hard to earn our customer's business through practicing our core values and being responsive, reliable, and professional. We are committed to maintaining a high standard of excellence in all that we do. It is our goal to establish a firm business relationship with our clients as their trusted advisor, "says Carolyn G. Pugaczewski, Principal/Owner, M. Adams & Associates, Inc. "We work to reduce insurance expense, improve our client's cash flow and mitigate threats to their assets and the work process so they can employ their business strategy and grow their business."
Providing personal and business insurance services
GET STARTED WITH A FREE CONSULTATION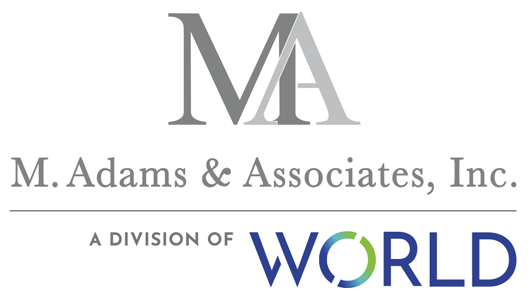 Office Address
224 Middle Rd. Ste. 3, Hazlet, NJ 07730
Office Hours
Monday-Friday: 9:00 AM - 5:00 PM
Saturday - Sunday: Closed
Exceptional Support
Testimonial
Extremely pleased with our relationship with M Adams & Associates. Quick response to all calls and questions. Exceedingly knowledgeable and helpful. The team at M Adams goes above and beyond for us. Thank you!
- Debbie Capparelli
Testimonial
I have been acquainted with Carolyn at M. Adams Insurance for many years, in her company's capacity as the insurance agent for my small business. Carolyn handles all aspects of my business insurance coverage including General Auto and Liability, Snow insurance and Workers Comp insurance. Carolyn takes the time to meet with me on a regular basis and totally understands the needs of my business insurance coverage. Carolyn and everyone at M. Adams Insurance are easy to work with, responds to my requests quickly and she effectively communicates her ideas.

I give Carolyn and M. Adams Insurance my highest endorsement.
- Cathy M. Vaccarella